JOYit - Play to Earn Rewards
Trusted App
Description of JOYit - Play to Earn Rewards
JOYit – Play to Earn Rewards APK is a free mobile app that allows you to collect coins and gold by playing games. It contains hundreds of mobile games; whenever you play a game, you will get cash and can exchange these coins with prepaid mobile recharge. It is the easiest and most accessible way to get mobile recharge by playing simple games.
In this world, everyone has a Smartphone, and people love to play games. When you play games, it doesn't give anything in exchange. From today onwards, you will rewarded for playing games. Using this app, people may collect gold coins and get benefits. The app contains every game category, like action, advent, racing, puzzle, and more. Just select your favorite game and earn coins by playing.
It is a free app; you can download and use it for free. It has a user-friendly interface and easy usage. First, register your account in the app and collect coins instantly. It will provide simple tasks in the game, and you can do them in seconds. After playing games and completing the tasks, coins, and rewards will automatically be deposited in your account. Share this without friends and play collectively to earn more rewards. Also, check Congo Bet APK and RSweeps Online casino777.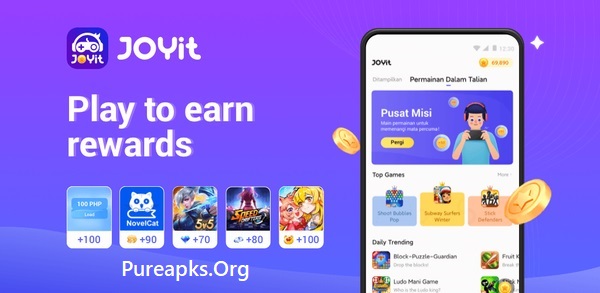 More about JOYit – Play to Earn Rewards APK
Millions of people are playing games worldwide, but no one benefits. People don't get any single help by spending many hours and money on games. Using your gaming experience and skills, you can get your mobile recharge and other rewards in seconds using JOYit – Play to Earn Rewards APK.
Every old and new game is available here, like PUBG, MLBB, GTA, Candy Crush, and more. First, install the game from the Play Store that you love and play a lot, and activate it in the app. This app also has other ways to earn rewards, like doing different tasks, joining esports events, and more. After collecting coins, you can instantly transfer and exchange them for mobile recharge.
Features of JOYit – Play to Earn Rewards APK
This app has many unique features, and developers are trying to make the app more advanced. The app gets new, exciting features and improvements with every update. Here are some valuable features of this app; check them now;
Play Games
Hundreds of mobile games are available in this game. It will provide top, trending, new, old, and every type of game. You can play these and get benefits. The more you play, the more you earn.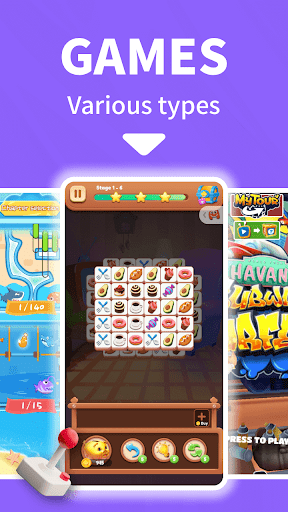 Events on JOYit – Play to Earn Rewards APK
If you want big rewards or prizes, join eSports events. These events are held every week, and by joining the event, you can interact with friends and other people. By these events, you can quickly get big prizes.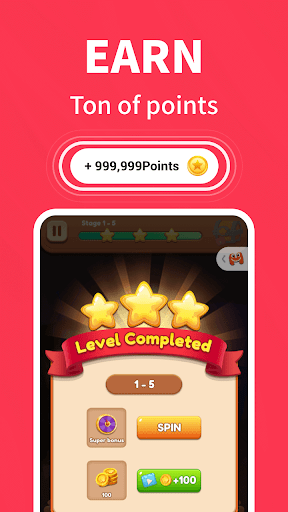 Payments Methods
You will get gold coins after playing games, doing tasks, and doing other activities. After collecting some coins, you can easily exchange them with prepaid mobile recharge and send them to your accounts.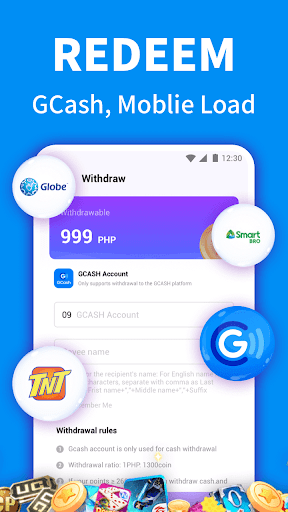 FAQs
How can I get a free mobile recharge?
If you want to get free recharge from your mobile, you can use this app and earn unlimited recharge by playing exciting games.
Is JOYit – Play to Earn Rewards safe to use?
It is an entirely safe and secure application; hundreds of people trust it. You can also download and use it without any hesitation.
How to download and install the JOYit app for free?
First, click on the download button and get the game file for free. After downloading the game, install it on your Android phone. Allow unknown sources on the phone, and ensure you have allowed third-party installation on your mobile.
Final Highlights
There is a tiny platform that allows earning free recharge, prizes, and rewards. If you are a game lover and spend more time on it, you must try JOYit – Play to Earn Rewards APK. It converts your game time into rewards. You can also get unlimited benefits when you spend some minutes in this app and doing some tasks. So what are you waiting for? The app is here for free. Download the app from the above link and start collecting prizes and rewards now.